Case Study
Dawsongroup Plc
Adding assets in order to expand audience reach
High specification temperature controlled vans to fulfil the needs of customers
The background
Dawsongroup plc is a group of companies specialising in the supply of commercial assets. The group has grown from a core truck and trailer rental product to cover nine distinct asset groups. The group gives clients increased capability without risking capital.
The challenge
Dawsongroup vans established itself in the market as a supplier of light commercial vehicles.
Simon Ridley, managing director of Dawsongroup vans Ltd, said: "We're part of a large group, an area of which is specialist in cold chain supply, renting out cold storage units, trucks and trailers.
"But we didn't do temperature controlled vans and we knew we needed to add this asset to our portfolio in order to expand our audience reach."
The search began for a suitable partner in this domain, and CoolKit was a strong contender.
Simon said: "We carried out a thorough assessment exercise to seek a partner who could help us add this additional string to our bow and CoolKit proved very impressive.
"They had impressive manufacturing capability and excellent knowledge and understanding of what we were trying to achieve – to configure and build vehicles for the cold chain.
"They were very helpful throughout the process and able to demonstrate how they could deliver to timescale and quality standards."
The solution
Dawsongroup vans chose a combination of two market leading vehicles to be converted by CoolKit The Mercedes-Benz Sprinter, and the Volkswagen Crafter.
Each conversion is built to a very high specification and designed to fulfil the needs of the vast majority of customers as well as maximising the potential number of rental customers Dawsongroup vans can attract.
Every van is capable of reaching a variety of temperatures, from -18 for frozen foods, all the way up to +25 for controlled ambient pharmaceutical transportation.
They all have single and split compartment functionality to be able to freeze in one half and chill in the other and have extras such as data recorders and overnight standby as standard.
Dawsongroup vans also chose to have live remote temperature monitoring installed on all the vans, so customers can monitor the location as well as the live temperatures in the load space.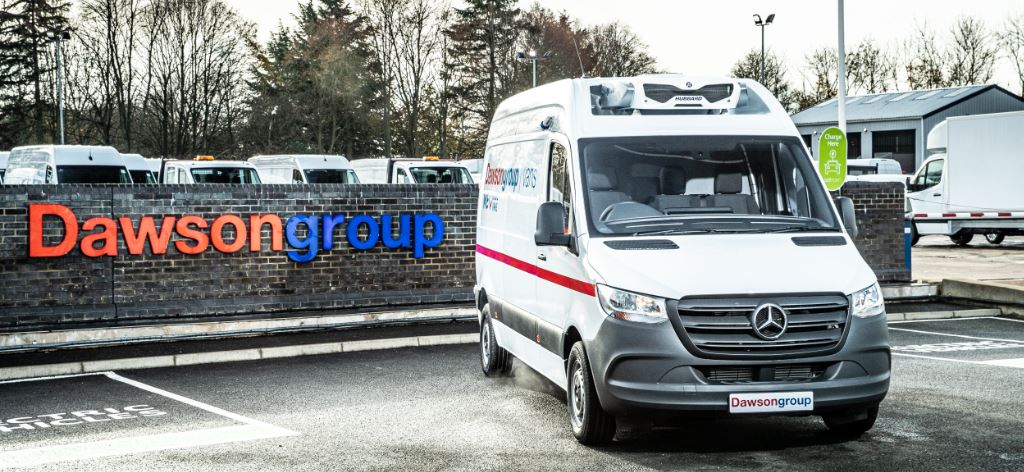 The result
Sales & Marketing Director, Glenn McCulley said: "We are thrilled that Dawsongroup chose CoolKit to help the business expand its portfolio.
"Since completing our first vans for Dawsongroup in October 2019, CoolKit has now completed 87 conversions. We are currently working with them to help them secure an order for a customer in the pharmaceuticals industry."
Dawsongroup vans has been extremely busy during the pandemic and, as such it is now seeking to expand its fleet of temperature controlled vans in 2021.
Read more case studies