Case Study
Modern Milkman
Ergonomic design for delivery drivers
Expanding reach for Modern Milkman with a custom build
The background
When David Attenborough called for action to combat plastic waste in our oceans, people were crying out for an alternative way to shop. The Modern Milkman responded to that call by offering an app based solution to the traditional milkround and its growth has been phenomenal.
The challenge
The Modern Milkman concept took off at speed and wanting to expand its reach out of Lancashire and Yorkshire into more counties, director Simon Mellin knew they needed to invest in their fleet of delivery vehicles order to service demand.
He approached fellow Lancashire businessman Lee Duerden at XLCR Vehicle Management to get his advice on the best possible refrigerated solution.
XLCR's preferred convertor for temperature controlled vehicles is CoolKit and so a meeting was set up with Sales and Marketing Director Glenn McCulley to discuss potential options.
"We had never before been asked to convert a milk float custom build, but, as a business recognised for R&D and innovation, we knew we could present The Modern Milkman with the solution they needed."

Glenn, CoolKit Sales & Marketing Director
The solution
CoolKit identified the Fiat Doblo as the perfect model on which to work and after discussing the specifications with Mellin, set about building a prototype model for him to trial.
It was important for the vehicle to have a drop side and two separate compartments.
The front section was to be used to stack milk crates and the rear section required two insulated boxes, curtains and a racking solution to be able to hold a mixture of egg boxes and veg boxes and further products as they grew.
As a modern alternative to the traditional milkman, it was also important that the vehicle had the right aesthetics to effectively represent the brand.
The prototype was tested on various routes around Greater Manchester over a few months  and following a few enhancements to the original prototype vehicle, Mellin was very happy with the final product.
He said: "Our milkmen and women are the backbone of our business – they're on the front line, so it is really important to us that they are comfortable and happy! The design we chose was the most ergonomic for our drivers and will help make their job easier, especially now we have a wide range of products. The two-section design will allow our drivers to deliver more products to even more customers, whilst making it easier than ever before.
"We were really happy with Coolkit's design process. The ability to see a prototype of the custom build milk float made the decisions easier as we could visualise any opportunities or barriers to the design.
"The collaborative process was unique and it felt like CoolKit were ready to help at all stages, which meant the final design was even better than we expected."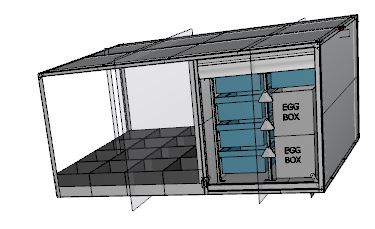 The result
Due to the success of the trial, The Modern Milkman has confirmed an order for 125 vehicles which will be rolled out from Quarter 1 of 2021.
Mellin added: "As our business continues to grow, the custom build milk floats will allow us to further expand our range of return and reuse groceries to encourage even more customers to help us reset our throwaway society."
Read more case studies