We're a leading specialist in temperature-controlled vans and we lead the way in a variety of expertise. From full refrigerated conversion kits and supplies to repairs and van maintenance. We take pride in helping businesses improve their efficiency and profitability.
We operate in a variety of different industries, from pharmaceuticals and healthcare to food-service and catering – we can lend our expertise to a broad scope of bespoke specifications. Whether you're wanting your refrigerated van serviced or you're needing some maintenance work carried out, we'll be able to provide a solution and help you get back up and running in no time.
In this post, we'll explore our refrigerated van servicing and the varying packages we have available. This is a chance for you to get to know us so we can help you move your business forward for the long term. 
We'll cover:
Our Specialism
At CoolKit, we specialise in helping businesses tackle their problems and continue to serve their customers in a variety of industries. We do this by applying our core values – to listen, innovate, and deliver. We listen and learn our client's obstacles and problems, we work as a team to produce innovative ideas and then we deliver exceptional results.
We stand out as the leader in temperature-controlled vans in the UK and we currently trade in 10 countries. With over 15 years worth of trading experience, we've naturally built up our space in the industry. We can lend our expertise to multiple industries whilst also turning orders around quickly without any compromise on quality or delivery.
Our industry awards and manufacturing accreditations support and reassure our buyers that we prioritise safety, quality and the integrity of our work. Our commitment to excellence ensures that we can provide the right solutions for the most complex problems. 
At CoolKit, we provide refrigeration solutions – van conversions and kits, van rentals and vans for sale. We also offer a range of schemes to provide van repairs and maintenance too. We offer the flexibility to suit everyone's needs.
Keeping your vehicles safe, reliable and trustworthy is an essential way of moving your business forwards for longevity. With our help and expertise, you'll be futureproofing your vehicles and fleet for all the right reasons.
The CoolKit Servicing Process
Regular servicing is essential for vehicle reliability and maximised business efficiency. Servicing your vehicles is a great chance to identify any faults before they become problems and it's also a great chance to give your vehicles and fleet the once over to ensure they're fit for purpose.
If vehicles aren't serviced regularly, they're more likely to become unreliable, experience vehicle downtime and the safety of your drivers and passengers will be at risk. Whereas if maintenance and servicing are prioritised, then you'll be prepared for the future and you'll be less likely to encounter vehicle delays and dangerous challenges.
At CoolKit, we know how important it is for businesses to keep moving forward with their vehicles. We understand the importance of productivity, efficiency and profitability so we use this to provide the most flexible maintenance and service plans possible. No matter what industry you operate in, we can provide the service you need with the help of our trained and professional technicians. 
We currently provide service, maintenance and repair of:
Light commercial vehicle direct drive refrigeration units.
Truck and trailer diesel refrigeration units.
Night heaters.
Commercial freezer rooms.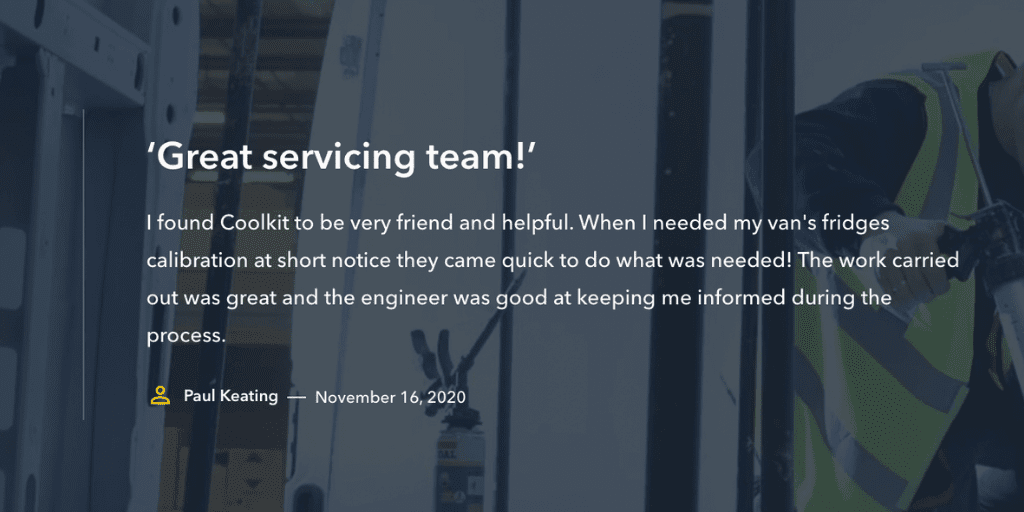 Our Pay-As-You-Go and Maintenance Packages 
Maintenance Packages 
Our maintenance packages are flexible, adaptable and suitable for a variety of needs. We offer both contract and pay-as-you-go alternatives allowing you to find the plan that suits you and your business needs.
Our maintenance packages cover three different offerings, bronze, silver and gold. All of them differ slightly but depending on your priorities will depend on the plan suitable for you.
These plans are designed to ensure your fridge unit is working effectively and providing unrivalled results during every single journey.
We also provide a preventative maintenance program to help you oversee any faults before they become problems and we're also there for any unexpected repairs you may encounter. 
Bronze 
Our bronze package is the cheaper alternative out of all three plans. However, we certainly don't compromise on quality or delivery. This package can lend itself to a variety of businesses if you're looking for general maintenance. This package includes service and inspection, calibration certificate, five percent discounted repair parts and refrigerant disposal.
 Silver
The silver package includes more maintenance and offerings. This is a great choice if you're wanting to cover breakdowns and inclusive repairs that are typically out of hours. A breakdown of this plan is service and inspection, calibration certificate, 10 percent discounted repair parts, breakdown repair, refrigerant disposal and inclusive breakdown repair hours.
Gold
The gold package covers all of the main components for optimised vehicle maintenance with an additional repair part discount. This plan includes service and inspection, calibration certificate, 15 percent discounted repair parts, breakdown repair, refrigerant disposal and inclusive breakdown repair hours.
As well as these flexible plans, we also offer a 24-hour call-out service UK-wide where attendance is between two hours and the next day (depending on availability and time of day of call out).
The pricing for each package does depend on the make, model, age and mileage of your refrigerated van. Payments can be made monthly or annually – whichever suits you and your business.
Pay-As-You-Go Packages 
Our pay-as-you-go packages allow you to pay as and when you encounter problems or maintenance issues. They're flexible and can be the peace of mind you need to ensure your vehicles and fleet are prepared for every journey and situation they encounter.
Our pay-as-you-go packages are adaptable to your needs and they can range from £45 an hour (depending on the complexity of the problem and the turnaround time needed). As well as the make, model, age and mileage of the refrigerated van(s). Our pay-as-you-go packages are both credit card and account payable.
Having a plan in play to help you move through obstacles will not only position your business for future success and productivity but it'll place you one step ahead of your competition. The more you're prepared today, the better you'll be prepared for tomorrow's challenges.
CoolKit Can Help You Support Your Refrigerated Vans For Longevity 
Don't overlook the importance of van maintenance – it's vital for your productivity and business efficiency. If you're ready to explore our maintenance packages in further detail or you've got questions that need answering, our expert team is always available to help. 
With our flexible plans and options, we'll certainly have a solution that's catered for you. Get in touch with us today and we'll support your refrigerated vans for longevity. Start today and drive your business forward tomorrow.