Van maintenance is essential – FACT. Regular maintenance will ensure your entire fleet is in working order, helping you to maximise your business efficiency and overall van performance.
Van maintenance can be time-consuming but if it's scheduled before each journey and it's carried out consistently, it'll save you time and costly repairs in the long-term. If you're wanting to maximise your business efficiency then it's time to start now.
In this post, we'll cover all of the essential van maintenance tips you need to start actioning today so you can continue to drive your business forward safely and efficiently. 
We'll cover:
The Importance of Van Maintenance
Transporting perishable goods requires precise and accurate levels of chilling. Whether that's floral, edible or even medical products, they all require different levels of cooling.
Having a reliable and safe vehicle fleet should be at the top of your priority list. If you're not prioritising vehicle maintenance, you'll likely encounter vehicle downtime, minimise your business productivity and upset your loyal customers.
Whereas if you're organised, prepared for all eventualities and prioritise your vehicle's maintenance – you'll be one step ahead of anything that could go wrong. You're preparing your vehicle's for productivity and you'll be saving money in the long-term.
Vehicles are costly, especially refrigerated vans. But if you're organised and understand the importance of van maintenance, you won't encounter any hidden costs or more importantly put your drivers or passengers at risk of danger.
Regular Cleaning
Before and after every journey, the vehicle should be cleaned out and kept in pristine condition. Cleaning prevents rust, it prevents contamination across your goods and products and it's also a great way to identify damage across the vehicle.
Depending on the sensitive nature of the products you're transporting, could also depend on the likeliness of cross-contamination during transit. The best way to minimise the likelihood of this happening is to be prepared before and after every journey. 
Three cleaning tips to keep in mind are washing, scraping and airing out. Washing includes – emptying the entire vehicle and pressure washing or wiping down the floor, ceiling, walls, and door seals.
Scraping helps remove the more difficult stains (use a plastic scraper to ensure no long-term damage is created). Finally, airing out is essential to ensure everything can dry properly. If your vehicle isn't properly dried out, dampness can breed mould and damage your products.
Check Tyre Condition
Another way to ensure your vehicle is optimised for productivity and safety is to check the tyres regularly. When looking over the tyres, you should be looking out for cuts, bulges, sharp items, punctures and sidewall damage. Any of these could lead to a sudden tyre failure, a slow puncture or a severe accident.
The tread depth of your tyres also needs to be checked, this will also contribute to the safety of your tyres. A minimum of 3mm is recommended but in the UK 1.6 mm is the legal requirement by law. If you're pulled over during travel and your tread depth isn't within these ranges – you'll likely receive a costly fine. Be prepared, check the tyres and ensure you're preparing your vehicle for optimal safety.
Tyre pressure should also be checked when travelling regularly and when the tyres are cold. These can be checked by using a reliable pressure gauge and following the instructions in your manufacturer's manual. Don't forget the spare tyre, although you may not need it every day, it's important to be prepared for what could happen in an emergency.
Lighting Maintenance
By law, the lights on your van should be checked regularly. Not only will this prioritise your driver's safety but your vehicle will also be more reliable on the road. If your lights are faulty, you'll likely confuse other drivers with your signals and the safety of your vehicle will be compromised.
To inspect your lights, start the ignition, turn all of your van lights on and walk around the vehicle so you can see each light clearly (or get someone else to help). If you're travelling and you need to check your lights, you can also use the reflections in other vehicles or windows. If in doubt, get them checked professionally. 
If you encounter a fault, it should be inspected by a professional as soon as possible to help reduce your vehicle downtime. If your bulbs go out or they're flickering, it might be time to change the bulb – this can be carried out by you and will prevent any further delays you may experience. If you have interior lights, these should be checked in the same way as the exterior of the vehicle. 
Inspect Fluid Levels
Keeping all of your vehicle's fluids topped up is another essential component in your van maintenance checks. Your van's oil ensures the moving parts of your engine are lubricated and helps reduce the friction it may encounter during travel. A good guide to go by is by checking the manufacturer manual for all oil recommendations.
Coolant levels need to be maintained to ensure your engine is working optimally throughout your entire journey. Correct coolant levels will also preserve the performance of your van's engine so they're essential for vehicle longevity and fleet productivity. 
To check the coolant level, identify the expansion tank and the coolant levels should be between the minimum and maximum marks – these can be found on the side of the tank. You can either top it up as necessary or get help from a professional. Checking this regularly will prevent you from any long-term damage or faults.
The other fluids that should be checked include power steering, brake fluids and screenwash. Checking these regularly will help you identify any sudden drops in fluid level, giving you a better chance of avoiding faults.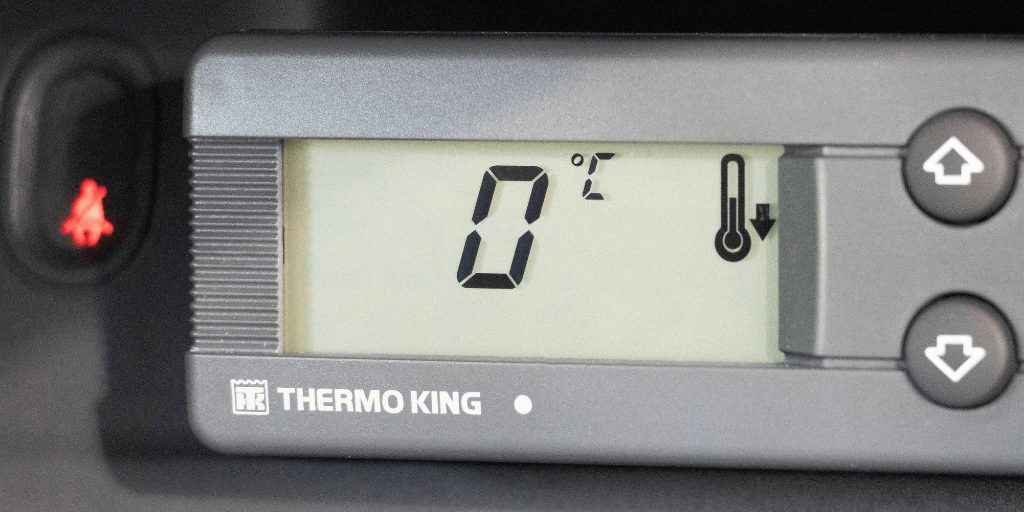 Body Work and Insulation Inspections
Damage and corrosion can negatively impact the performance of your van as well as the internal cooling system and then impact the chilled goods being transported.
Insulation inspections cannot be overlooked. Without insulation in your refrigerated van, you'll be compromising your chilling methods and your products will be at risk of damage. This, in turn, will decrease your chances of increasing customer satisfaction and meeting your customer's needs. 
If you do identify any holes, damage, corrosion or bumps, you must fill or correct them using all the appropriate sealants or seeking additional professional help. If they're overlooked, you'll encounter many problems long-term and increase your chances of vehicle downtime.
Overview Cooling Equipment
Refrigerated vans are designed to keep goods and perishable items chilled at a precise temperature during transit. A van's cooling system is usually powered by the van's engine and consists of a vapour compression system. Conducting regular checks and inspections of each system is a vital factor in preserving the performance of your vehicle.
Overlooking all of your cooling equipment is essential. Checking vents, ventilation, thermometers, engine, interior insulation and more. If you don't prioritise this as part of your van maintenance checklist – you'll likely encounter compressor failures. Your insulation may be compromised and the transportation of your goods may be decreased in value.
If you're not too sure how to conduct these checks, having this carried out professionally is a great van investment. The checks will be done properly, you'll be prepared for all situations and your refrigerated van will be optimised for safety and efficiency.
Optimise Internal Temperature
Your cooling equipment is essential but so is the temperature of your vehicle – both go hand in hand for optimal refrigeration. Maintaining the precise temperature is essential to vehicles performance and productivity. 
To make sure your van's temperature is correct, checks should be done before every journey. To do this, you can place a temperature probe within your refrigerated van whilst the engine is running. Record the accuracy of the internal temperature and keep track of all recordings. By keeping track of these temperature recordings will allow you to identify any changes, problems or temperature faults.
This isn't time-consuming and it can be done before you load the van with your goods. Don't overlook this, it'll ensure your products are safe during transit. 
Professional Inspections and Servicing
Regular van servicing will ensure you're prepared for vehicle faults but also prepared for increased business efficiency. As well as regular maintenance checks, professional inspections and servicing are recommended.
A refrigerated van inspection by an experienced and certified technician can help you catch faults before they become problems. Vehicle inspections do cost money, but they'll keep your van working optimally and safely. These professional checks are there to help you save money in the long run. So, get them scheduled and ensure your entire fleet is prepared for every situation.
With over 15 years of experience in the manufacturing of refrigerated vehicles, we offer a range of repairs and maintenance packages at CoolKit – both contract and pay-as-you-go. All of our repairs and maintenance are carried out by our team of trained professionals. We take pride in helping business owners take care of their vehicles so their vehicles will look after them for the long-term.
Industry Leading Technicians Helping Refrigeration Businesses Drive Forward
If you're ready to start prioritising your vehicle maintenance or you're wanting professional and expert advice and help, then there's no better time to get in touch with our team at CoolKit than now. 
Our expert team is always on hand to help you, whether you wish to speak with us about your vehicle's servicing, maintenance or repair – we'll always provide unrivalled customer service. Complete our enquiry form and a member of our team will be in touch shortly. We'll look forward to speaking with you soon!