If you're looking at purchasing a refrigerated van, it isn't always as straightforward as just choosing one. There's many considerations that need to be made before investing. But don't worry, with our expert team on hand to help, you'll be guaranteed to make the right decision. 
Here at CoolKit, we understand that choosing any new vehicle for your business is an important investment. Choosing the right van for your needs will increase your business efficiency, keep your goods safe and secure and you'll continue to delight customers. 
But what needs to be considered before you invest? In this post, we'll cover the considerations you need to make before investing. We'll also cover how choosing the wrong van could be detrimental to your business and its operations. 
We'll cover:
The Importance of Choosing the Right Van
When it comes to purchasing a refrigerated van, it's not always simple. To make the right decision, many different specifications should be looked at. After all, you must choose the right van for your needs. You need to have a van or fleet that meets your customer demand, keeps your products safe and future proofs your business.
When choosing a vehicle, you need to make sure it's the right investment. If you make the wrong decision or choose a van that can't meet your demand, you'll let customers down. You'll experience downtime from having to change vehicles and you could even be breaking health and safety regulations.
Purchasing the right van can bring you more sales, delight existing customers and expand your reach and customer base. To make the most out of your van, you need to consider your van's lifespan and how your business will grow over time. After all, you want to be in it for the long haul so you get the most out of your vehicles and your business operations.
The Considerations to Make Before Investing
Temperature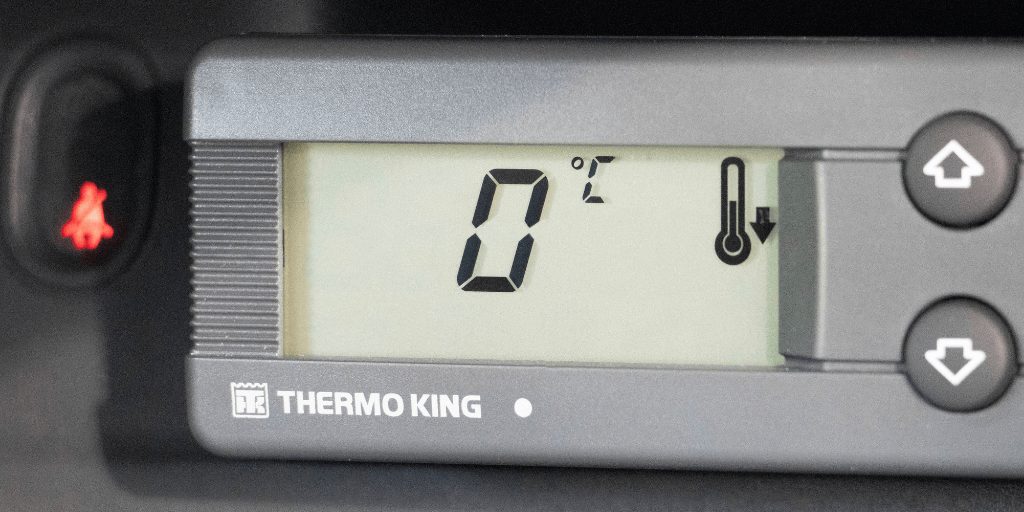 This is THE most important factor to consider first. Different vans are capable of maintaining temperatures, so depending on your cargo you need to select a van that can maintain the correct appropriate temperature for its contents. Most refrigerated vans do have temperature controls but you want to make sure they have the correct variation for your needs.
Florals: if you're transporting flowers, for example, maintaining a chilled temperature of between five to seven degrees centigrade is important to ensure your products remain in pristine condition. If this temperature is lower or higher, it could negatively affect your products.
Food-Service and Catering: if you are carrying food or catering production, it might be worth considering two compartments in your van. One to maintain products at an ambient temperature and another section for chilling. If products aren't chilled correctly, you'll be putting your team at risk of breaching health and safety rules and your products will also be unfit for purpose.
Pharmaceuticals and Healthcare: it's essential when transporting medicines, equipment or samples that they're kept at a constant cool temperature. If they're not, they'll be deemed unsafe and could be harmful to those who consume them.
Sampling: when sample products are transported, strict protocols and precautions have to be followed. Samples must be kept at regular temperatures and must remain in the same condition they were loaded in. Dual refrigeration units are best suited for this industry.
What Are You Transporting?
Temperature is important, but also consider which goods you'll be transporting. Along with the temperature of the van, the type of goods you're transporting will also be a deciding factor when it comes to choosing which van is suitable – including its size. There's so many different vans to choose from so you must weigh this up too. 
Along with the temperature, the type of goods is going to define what sort of van you decide to buy, including its size. There are several different types of freezer van to choose from. An insulation-only vanis designed to maintain a cooler temperature and prevents overheating – this is great for florists.
Whereas, you have chiller vans, semi-freezer vans and full-freezer vans – which deliver a full range of temperatures depending on your requirements.
Payload
How big do you need the cargo load to be? Do you need to hang items? Another consideration you need to take into account is the van's payload. If you're transporting meat or poultry – you might need to hang your products which means you'll need a larger van to cater to this requirement. 
Ideally, you want to be able to maximise the space you do have and ensure your products can be loaded and offloaded safely and securely. Payload is important because the last thing you want is your goods becoming damaged from a van's poor design or misjudgement. 
Understanding the correct payload you need for your van will keep your passengers safe and you'll maximise your overall business efficiency too! It's not one to overlook. 
Affordability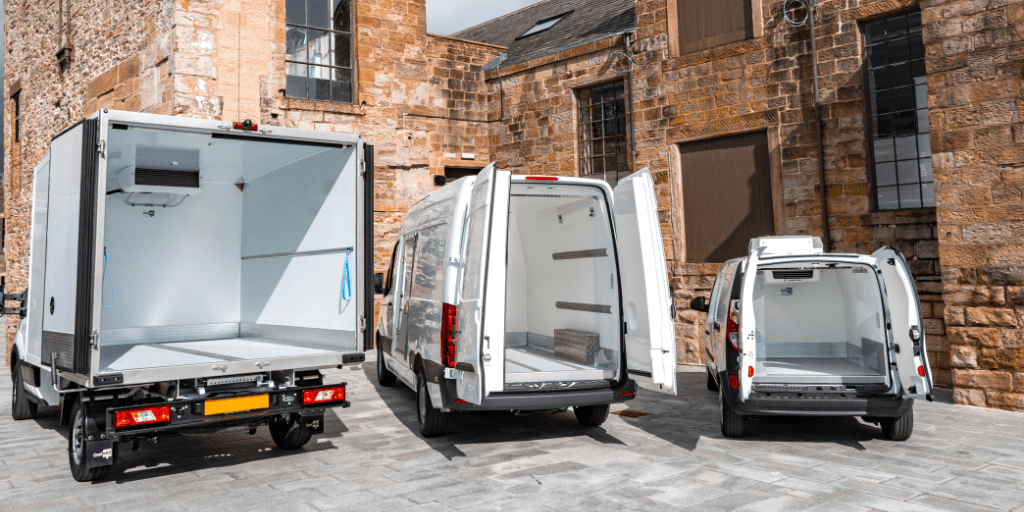 When it comes to deciding on the right refrigerated van for your business, you need to know exactly what you need. If you're prepared with all the right information, you won't be upsold on features you don't need and you'll also be aware of what your business needs to run efficiently. You don't want to undersell your business or cut corners on things you need.
With an expert team on hand, a trusted supplier and an abundance of choices available and customisations – you'll find the perfect van for your business – without breaking the bank!
Remember, the more customisations you have on the van – the more expensive it will be. But don't let the price put you off, at CoolKit we'll help you choose the right van for your needs. We'll make sure nothing is overlooked and we'll ensure every penny you spend is well spent. We know how important future proofing your business is – so that's why we're here to assist. 
Added Features
A lot of vans come with customisable features. So if you need the doors changing or you need extra storage space in the front of the vehicle, the possibilities are endless. If you purchase a large van, you might want to consider slip resistant flooring to ensure your employees are protected. 
Additionally, you might consider extra shelving and compartments to separate different products and keep things organised. After all, you should be maximising the space you have in the best way. Get more for your money and keep your products safe all at the same time – a bonus!
International Regulations
Before transporting goods into another country, it's important to see which regulations need to be followed. If you're within the EU and you're travelling to GB the regulations are different to travelling to the EU. It's important to be aware of the requirements you need to follow before you're allowed to your destination. This will save valuable time, money and you'll be guaranteed to have a successful journey.
Also, different locations follow different health and safety regulations. To ensure you hit no delays or disturbances, check the health and safety regulations you need to account for. You need to ensure your vehicles are safe and your team members are kept safe too. Check a reputable resource before planning your journey.
Get Help From Industry Experts
Now you know the considerations that need to be made, if you do have any questions, that's normal and we're here to help. We're here to remove any confusion and we're here to provide guidance and expert advice. After all, we want to help businesses thrive in their sector with the best products and vans possible.
CoolKit is the UK's leading temperature-controlled van specialist. From full van conversions to kit supplies, we lead the way in a variety of different industry areas. Whether you're a small start-up or you're an established enterprise, we'll be able to help. Have a look through a variety of our vans and see the variety we have – this might influence your decision and help the process.
Get in touch with us today and start driving your business forward in the most efficient way. We're here to improve efficiency and profitability for all.