At CoolKit, our conversion kits can increase business efficiency, a vehicle's payload and a company's overall revenue. We're van conversion specialists for a reason. We've won multiple awards, we've got an excellent technical team on hand to help and we take pride in helping companies innovate, create and recruit new business.
Why are we renowned for our industry-leading van conversion kits? And why are we at the forefront of the industry? Well, it's simple. Our service is focused on convenience, quality and ease of use. However, there's more to it than that.
In this post, we'll cover everything you need to know about our conversion kits. We'll cover the different benefits, why we're leaders in what we do and the different features of the conversion kits. So if you're looking to partner with a leading specialist in the UK, look no further.
We'll cover:
Award-Winning Innovation
At CoolKit we're true experts in refrigerated van conversion kits. We take pride in helping businesses develop their revenue streams, futureproof their vehicles and develop their business. We've won a variety of awards for our innovation, creativity, efficiency and quality.
Every job and every industry we work for is completed to a high standard every single time. No matter how big or small, we will continue to provide unrivalled professionalism across all areas of our business.
Some of our previous awards include; hat-trick winner of Refrigerated Panel Van of the Year 2017, 18 and 19, Manufactured in an ISO14001 environment to ISO9001 standard and VCA Whole Vehicle Type Approval clearance.
Our awards demonstrate our dedication to achieve successful results every time. We're leading the way for van conversions and we're proud to help businesses invest in kit that's essential for their efficiency and business growth.
One area (of many) we don't skimp on is quality. All of our kits and conversions undergo vigorous quality checks to ensure they're industry compliant and meet the manufacturing regulations.
We want to ensure that every customer we have feels confident and trusts that their vehicles will be compliant with any legalities. We also ensure everything we produce and create adheres to the standards of the Vehicle Certification Agency. 
The Benefits of A CoolKit Conversion Kit
Easy To Install
We do the thinking, the innovation and the creation. We ensure each kit is specifically designed with your intended purpose in mind and we ensure all the specifications are accurate and produced to a high standard.
This will ensure that once you've received the conversion kit, you'll be able to do the most important thing – build it and increase your revenue. We do the hard work so you don't have to.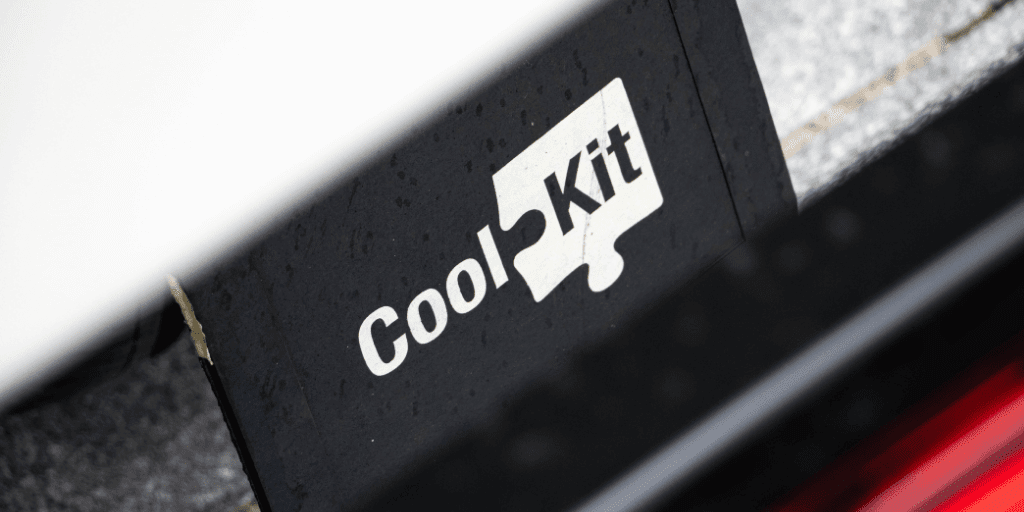 Robust Materials
All of our kits are made using high-quality materials that are robust and ready-finished. The kits alone are perfect for body builders, fridge engineers, van rentals and any business that wants to trade using van conversions. 
All of our van conversion kits are manufactured using extruded polystyrene (high-performance rigid insulation). The insulated lining kits cover the sides, the roof and the remaining exposed fragments of the vehicle.
These are bonded together with GRP plastic which is reliable, permanent and provides secure insulation. All of the prepared kits are cut to size using CAD designs which create completely accurate results time and time again.
CoolKit van conversion kits include:
No timber: our polypropylene reinforced floor weighs only a fraction and won't rot. Great for longevity, ideal for futureproofing your business and easy to clean and maintain hygiene standards.
Waterproof interior: this ensures surfaces can easily be wiped down and disinfected appropriately – an important factor for any business. 
Slip-resistant floor: this is always included as standard for hygiene and safety quality.
Extruded polystyrene insulation: provides high-performance rigid insulation with a closed-cell structure, ensuring it's watertight.
Ultra-bright and long-lasting LED lighting is operated by factory door switches: convenient and safe to ensure you can operate and work throughout a variety of suitable times.
Rear double door entry with full-width metal tread plate: great accessibility, perfect for loading and unloading safely and durability.
Many options are available including side door access, drainage, temperature and data recording, load retention.
Pre-cut extruded aluminium skirtings.
Gel-coated wheel boxes with ready-fitted insulation.
All the adhesive sealants and tapes that are required are applied.
Additional extras can be added depending on your requirements. Whether that's PVC strip curtains, load restraining tracks and more.
Increased Payload
Van conversion kits are ideal for increasing your vehicle payload. Each vehicle has a different recommended and legal payload they should abide by. Ensuring you have enough cargo space and you're maximising the space you do have, is essential. 
Our conversion kits can be designed to fit your bespoke requirements. They'll be in alignment with your available payload and they'll maximise all the space you have – ensuring you can run your business efficiently and professionally.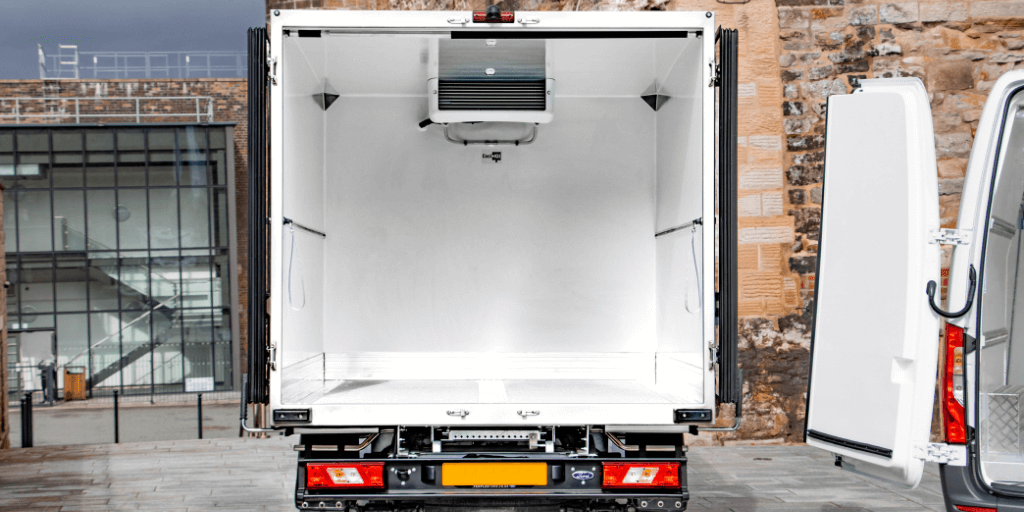 Additional Revenue Stream
Refrigerated conversion kits offer many benefits – increased payload, optimal business efficiency, guaranteed safety and varying temperatures. Van conversion kits can expand your business offerings and position your business for new outreach and partnerships.
Utilising van conversions will not only future proof your vehicles for future demand but you'll also be one step ahead of your competitors.
Professional Support
With every conversion kit also comes our expert support. We understand that piecing together your first conversion kit can be daunting but that's why our expert teams are always on-hand to help and assist. We're here to help and provide guidance on all first builds. This support will ensure you fit everything properly and securely.
Renowned Throughout A Variety of Industries
Conversion kits can be applied to many industries. As long as you have a vehicle that's compliant and you have a business that requires refrigeration – you'll be in luck!
We operate in a variety of industries from food to pharmaceuticals and we also help refrigeration engineers, entrepreneurial motor dealers, rental companies and more. We help those who want innovative, creative and exceptional refrigeration solutions.
Our high-quality kits are easy to self-assemble, they can provide a great revenue stream for any business, they're lightweight and they're safe and easy to handle. We have 15 years of trading experience in this industry so we're experts in this field. We can assure you that our refrigeration van conversion kits can be an efficient and productive addition to your operations.
We've won many awards, our customers are always delighted with our efforts and our claims at being the best at what we do, is always backed up by customer feedback. With our awards and customer testimonials, we hope this reassures buyers that our services are safe, they're quality checked and we're extremely passionate about helping our customers.
The UK's Specialist Manufacturer of Refrigerated Vehicle Conversion Kits
If you don't have the means to convert a vehicle, rest assured we're award-winning manufacturers of temperature controlled vehicles and offer a variety of already converted vans. BUT if you're ready to upgrade your business offerings and provide unrivalled refrigeration solutions – look no further.
Get in touch with one of our experts TODAY and start expanding your revenue stream and business operations. Any questions you have, our team are always available to provide assistance and help where needed. It's time to find the perfect temperature-controlled solution for your business!