Van conversions increase your available van payload, they're great for maximised efficiency and they're a great way to futureproof your business. Whether that's a van conversion kit or a converted van – both offer unrivalled capabilities for business growth. At CoolKit we listen, we innovate and we deliver and this makes us stand out as the leader of temperature-controlled vans in the UK.
We understand that when it comes to any new vehicle investment, there can be some questions that crop up. Whether that's regarding the pricing of a conversion or how easy the kits are to build. We understand that you need to know each process and you need to know exactly what you're investing in. That's why we've compiled some of the frequently asked questions in this post.
In this post, we'll cover the eight frequently asked questions and we'll provide you with all the guidance you need to make the right van conversion choice for you and your business. After all, it's an investment so it needs to be the right one.
We'll cover:
How Much Do Van Conversions Cost?
Van conversions can vary in prices depending on whether you're having one van converted or your entire fleet. When considering which conversion option you'll go for, it's important to know that there are a few considerations that should be considered which could affect your van conversion price – size, quantity, labour, condition, features and materials.
None of these should be overlooked and with the level of craftsmanship that goes into van conversions, a high-quality outcome is always guaranteed at CoolKit. In a recent post we created, we've gone into detail about the factors that impact your conversion price so be sure to check that out for further information.
Are Van Conversion Kits Easy To Install?
All of our van conversion kits are designed for a quick, safe and convenient assembly. We do all the thinking, we do all the innovating and we ensure that every kit is bespoke to that clients needs at that time.
Each kit comes with bespoke instructions according to your van conversion, they're easy to follow and offer step by step processes. So the answer is, yes! They're made with all your bespoke needs in mind. 
Who Installs The Van Conversions?
If you're interested in a van conversion kit then these can be built by yourself as they come with easy instructions for self-assembly. Help is also available for the first time builds so you won't be doing it alone.
Alternatively, if you're having your van or fleet converted by CoolKit then rest assured that you'll have an expert team with 15 years of trading experience transforming your vehicles and exceeding all expectations.
Will I Get Support With Building My Van Conversion Kit?
Of course! With every conversion kit, we always provide support for first time builds. We understand how daunting it can be to convert your first van so that's why we're on hand to help answer any questions and provide expert advice and support.
Our entire service is based on convenience, quality and ease of use so we'll never leave you in the dark about anything.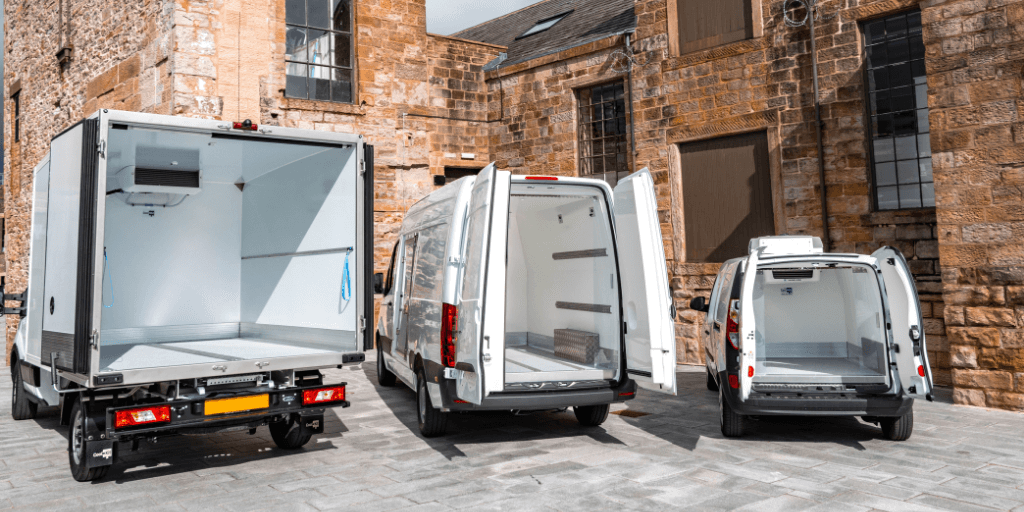 Which Industries Are Best Suited To Van Conversions?
Almost any industry could benefit from a refrigerated van conversion. As long as you have products that require refrigeration, you're in the right place. Van conversions are fuel-efficient, they increase payload, they're durable in all environments and they can add revenue to your business.
Van conversions provide your vehicle fleet with the flexibility to meet the demands of your industry – no matter what specialised area you operate in. So whether you're an entrepreneurial motor dealer, a transport engineer, a private rental company or a body builder a van conversion could be what takes your business offerings to the next level.
I Already Have A Van, Can I Convert It?
Of course, you can! We can lend our expertise to a variety of specifications. Whether you have a large van fleet or you're operating through a smaller vehicle – with our bespoke service, we'll be able to provide the solution for you.
You could choose a van conversion kit that you assemble yourself which will be custom made to suit your needs or we can convert the vehicle for you. 
What Do The Conversion Kits Include?
Our van conversion kits typically include the following. However, this can vary depending on the project you're working on and the requirements you have. But here's an example:
Simple and bespoke instructions to ensure you can safely assemble your kit and get moving with your business operations.
No timber: our polypropylene reinforced floor weighs only a fraction and won't rot. Great for longevity, ideal for futureproofing your business and easy to clean and maintain hygiene standards.
Waterproof interior: this ensures surfaces can easily be wiped down and disinfected appropriately – an important factor for any business. 
Slip-resistant floor: this is always included as a standard for hygiene and safety quality.
Extruded polystyrene insulation: provides high-performance rigid insulation with a closed-cell structure, ensuring it's watertight. 
Ultra-bright and long-lasting LED lighting is operated by factory door switches: convenient and safe to ensure you can operate and work throughout a variety of suitable times.
Rear double door entry with full-width metal tread plate: great accessibility, perfect for loading and unloading safely and durability.
Many options are available including side door access, drainage, temperature and data recording, load retention.
Pre-cut extruded aluminium skirtings.
Gel-coated wheel boxes with ready-fitted insulation.
All the adhesive sealants and tapes that are required are applied.
Have More Questions? CoolKit Is Here To Help!
If your question hasn't been answered here, don't worry, we have an expert team always on hand to help. So whether you're new to van conversions or you're wanting to extend your revenue stream, we're here. We're leading the way in this industry and take pride in helping businesses resolve their problems and drive forward into future success.
Alternatively, if you want to learn more about the perks of van conversions and how they can add TRUE value to your business, download our FREE infographic and learn everything you need to know (it's coming soon!). If you continue to innovate and expand your service offerings, you're guaranteed business success – FACT.