An insulated container can increase payload and they're perfect for businesses wanting to experiment with refrigeration or expand their business offerings. They're durable, hardwearing and they're great for businesses who don't want to fully commit to a converted van.
Insulated containers can provide many positive benefits. But what are they? What is the purpose of insulated containers and what industries will benefit from them? In this post, we'll cover it all.
We'll cover everything you need to know about insulated containers so you can make the best decision for you and your business. After all, any new investment should be considered properly before delving deeper.
We'll cover:
What is an Insulated Container?
Insulated refrigerated containers are perfect for businesses that don't want a dedicated cooler in their van. Instead, insulated containers are portable and can be moved in and out of a vehicle when needed.
If some products need to be temperature-controlled and others don't require refrigeration, these portable containers can provide the solution. The containers ensure you can carry all of your products efficiently with the advantage of temperature control and without using unnecessary payload space. 
Insulated containers, if sourced and purchased from a reputable supplier, can offer multiple business benefits. They're flexible in transit, they're a great payload increaser, they don't create disturbances in the cold food storage, they're washable and cleanable and they're removable too. So if you need refrigeration one day and the next day you don't, the flexibility is there to make use of your vehicles to their greatest capacity. 
The Advantages of Insulated Containers
Dual power
Efficient
Increased payload
Dual temperatures
Easy to clean and remove
Available in a variety of sizes and models
How Do Insulated Containers Work?
Insulated containers do vary from different brands. However, they're typically plugged into the main vehicle battery during transit and travel. Once they've arrived at their specific destination, they will then be plugged into an electrical power unit. 
Depending on the vehicle you wish to use for refrigeration will depend on the portable refrigerated container you use. But they all follow the same rules for increased efficiency.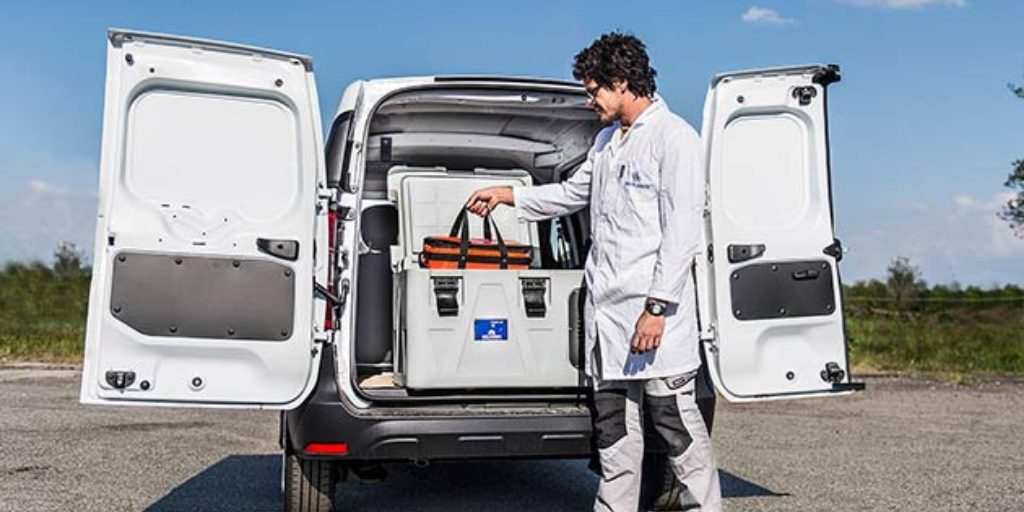 To get the most out of your refrigerated insulated container you need to ensure your products and goods are evenly distributed throughout the container for maximised cooling.
Hygiene and cleanliness of the container should be maintained after every journey too – so no contamination is caused and your products and goods remain in alignment with all health and safety standards.
What Sizes Are Insulated Containers?
Sizing is never a big issue with insulated refrigerated containers. They're durable and come in a variety of sizes, shapes and specifications. They typically range in sizes from 20 litres to 1,350 litres capacity. They're ideal if you're wanting to maximise your current vehicle payload and also have the bonus of refrigeration.
They have the capabilities to carry fresh, frozen and room temperature goods depending on your needs. The temperature adjustment range is approx -25°C to + 40°C and this applies to all sizes of units. If you're unsure of what size you need, that's ok, they're many options available depending on the supplier you use. 
After all, you want to ensure you're choosing the right size so you're getting the most out of your vehicle and you're in the best position for business efficiency.
Which Industries Will Benefit From An Insulated Container?
Insulated refrigerated containers are perfect for any business that requires the safe transport and storage of goods that need chilling or require freezing temperatures for a long period. They're perfect for any business that doesn't require a fully refrigerated van and they're looking for a flexible and durable refrigerated solution.
Insulated refrigerated containers can lend themselves to a variety of industries. Any industry that operates or transports food is in a great position to benefit from insulated containers. They're removable, they offer dual temperatures and they're a hygienic and safe way to transport foods and catering products.
If you offer pharmaceutical products or need to transport biological materials, an accurate temperature is always required. This is guaranteed with insulated refrigerated containers. Refrigeration and cooling need to be of the highest quality and reliability when transporting any chilled items, but rest assured, insulated containers can provide just that.
The durability of insulated containers ensures that they're capable of withstanding any journey or refrigerated need. So no matter what industry you operate in, if you're needing a cooling solution – you'll definitely be looking in the right place.
Learn How To Add Value To Your Business For Free 
As we've covered, refrigerated containers can be a great positive and efficient solution for businesses who are looking to use refrigeration. They add true business value, they can extend your business offerings and they're reliable for refrigerated solutions.
But did you know that when it comes to refrigeration, there are many other ways you can add value to your business? Well, in our FREE downloadable infographic, we've included everything you need to know about adding value to your business through the use of refrigeration.
Our infographic is a visually led piece that's easy to understand and read. However, we're just adding the finishing touches – so, in the meantime, please don't hesitate to get in touch with one of our expert team with any questions or queries you may have.