We're the sole UK and Ireland distributor for the leading temperature-controlled refrigerated containers produced by the Italian manufacturer Melform.
At CoolKit, we take pride in helping businesses utilise the benefits of portable refrigeration – whether that's maximised payload or for quality control – we can provide a solution for every refrigeration need.
Our range of portable refrigerated containers meet the demands of the refrigeration industry and they provide world-leading performance. With 15 years of trading experience, we're experts in this field so we can provide all the advice and guidance you need to make the right refrigeration choice for your business.
In this post, we're going to explore the range of products we have for your portable refrigeration needs. We'll also briefly touch on what portable refrigeration is and then we'll guide you to the right guidance and support so you can continue to drive your business forward.
We'll cover:
What Are Portable Refrigeration Containers?
Portable refrigerated containers provide refrigeration on the go. They're perfect for businesses who require the convenience of refrigeration but don't want to fully commit to a converted refrigerated van or fleet. They're great if you require dual temperatures for your goods and services. Plus, if quality control is at the forefront of your business operations, they'll provide just that.
If you want to increase your available vehicle payload and carry all of your products safely then rest assured that with a portable refrigerated container, you'll have those benefits ticked off. 
The Advantages of Insulated Containers
Dual power.
Efficient.
Increased payload.
Dual temperatures.
Easy to clean and remove.
Available in a variety of sizes and models.
Portable refrigerators come in different sizes, models and capabilities but they usually all serve one purpose. To keep your cargo in pristine condition from loading to unloading. They're typically plugged into the main vehicle battery during transit and travel. Once you've arrived at your dedicated destination, the portable containers will then need to be plugged into an electric power unit. 
Portable refrigerated containers are easy to clean, they're customisable depending on your business needs, they're a payload maximiser and they can lend themselves to an array of businesses. So, if you require convenient refrigeration, then you're in the right place.
By applying our core values – to listen, innovate, and deliver – we can help you find the right refrigeration method for your needs. With that being said, let's jump right into it and see some of the products we have available.
The Melform Range
The Italian manufacturer Melform creates refrigeration solutions for caterers, hotels, food and beverage, pharmaceuticals and more. They've been a leader in the refrigeration sector for the past 50 years – so it's fair to say they're trusted and reliable manufacturers.
Any business that requires the transport of storage of either chilled, frozen or hot temperatures can benefit from a Melform portable refrigerated container. 
It's worth noting too that Melform's containers comply with all current regulations. They are NF certified, safe to work in a HACCP environment and they can come with an ATP Certificate for the road transport of perishable food items. This is great to ensure your business is future-proofed and suitable for all journeys on the road. 
The wide product range Melform offers includes different sizes, models and power solutions. So, if you're not sure how you want to power your portable refrigerator, there's the option of electrically powered refrigeration, rechargeable batteries or eutectic plates.
There are also many other features that can be added or included: front and top-loading formats, variants with or without air recirculation, control via Bluetooth or specific Apps and varied customised sizing.
The possibilities are endless to an extent, but with experts on hand at CoolKit, we'll be able to give you the rundown on them so you know how to make the best investment for your business.
The Cargo Portable Refrigeration Container
High capacity isothermal containers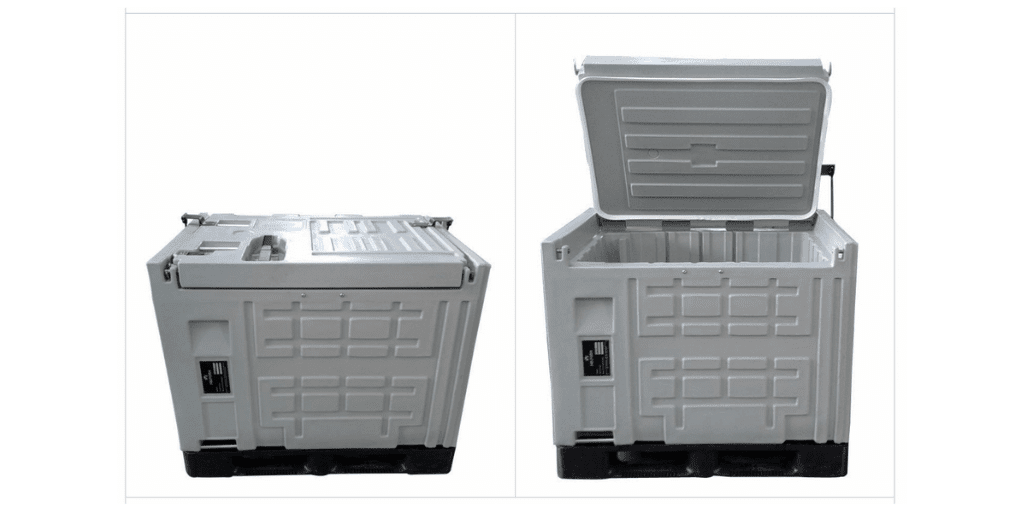 The Cargo collection by Melform is specifically designed for the transportation of perishable products. They're high capacity, they offer controlled temperatures and they're suitable for an array of food and beverage businesses: supermarket chains, logistics operators, chilled or frozen food distributors and manufacturers, carriers.
Why the Melform Cargo Collection?
Components made of stainless steel.
Customisable: colour, size and configuration.
Safety and quality protection preventing contamination.
Temperature under control.
Unbroken cold chain.
Easy to clean.
Fully recyclable.
Guaranteed for use: from -30° to +100° C.
Available (on request) USB data logger to record temperature data during transport.
Chilled and frozen eutectic plates, to increase temperature retention performance over time (on request).
These types of portable refrigerated containers are suitable for the loading of medium-sized commercial vehicles with 370 litres capacity. So, if you currently own a van with a medium capacity, you're in great luck. It can be transported using conventional vehicles that currently don't have refrigeration – offering chilled, frozen and ambient temperature controls.
They're easy to clean and they're completely recyclable at the end of their operating life. To keep your team and products safe and secure, rotational moulding technology is used with the entire cargo – mono-block container and door (free of sharp edges, joints and welds).
Melform containers are a brilliant business investment if you operate in the food and beverage industry. They typically range between price per unit starting from £1,000. If you're wanting unrivalled quality assurance and safe refrigeration – look no further.
The Koala Portable Refrigeration Container
Refrigerated containers for pharma logistics.
The Koala collection by Melform is specifically designed for the transport of chilled and frozen products at a controlled temperature. If you operate in the biomedical or pharmaceutical industry then the Koala collection will be the ideal refrigeration solution for you.
The Koala range is designed for the storage and transport of products and thermosensitive thermolabile materials for which accurate temperature control is needed. The Koala range offers total compliance with the cold chain at all stages of transport, it's equipped with a low consumption fridge unit and all the products are fully recyclable. This range ticks the boxes for many pharmaceutical businesses.
Accuracy and reliability. 
Safety and tracking.
Temperature range: -30° to +40° C.
Unbroken cold chain.
Double power supply.
Easy to clean.
Fully recyclable.
Available (on request) USB data logger to record temperature data during transport.
Ranging from 21 litres capacity to 370 litres capacity
Adjustment and control of the temperature with a programmable digital thermostat.
Equipped with a low consumption fridge unit.
Easy to transport by car and easy to handle thanks to the dimensions and weight content.
If you're aware of your energy usage and you're wanting to maximise the power you do use, the Koala range offers insulated container walls. These ensure that the temperature maintenance is guaranteed with a minimum number of ignitions of the cooling unit = limiting energy consumption.
There are two available versions depending on the temperature adjustment range you need. AS: temperature adjustment range: from -25°C to +10°C; to ASH: with the heating kit and temperature adjustment range: from -25°C to +40°.
This range also offers dual power sources, meaning that during transport it will be connected to the vehicle battery and then at the destination, this will then be connected to the mains power. Offering great flexibility and convenience.
It's easy to clean, load and transport. Not to forget, it's easy to handle thanks to the dimensions and weight content. Offering many advantages and capabilities, this range doesn't just stop there. With many customisation options available, you'll definitely be able to find the range suitable for you.
Also, our team at CoolKit can provide all the support and guidance you need to make the right business decisions. We're experts in this field and we're the leading provider of the Melform range. It's normal to have questions at this stage especially when it comes to your industry specifications. No matter what industry you operate in, they'll be a solution for you.
Drive Your Business Forward With Portable Refrigeration
If you're ready to upgrade your business offerings, increase the payload in your vehicle and take your refrigeration to the next level then CoolKit can offer all the support you need. If you want to explore the Melform ranges in more detail or if you have questions that need answering, don't hesitate to get in touch with our expert team today!
In the meantime, download a copy of our FREE downloadable infographic and learn everything you need to know about adding value to your business through refrigerated solutions. However, we're just adding the finishing touches – so, in the meantime, please contact one of our expert team with any questions or queries you may have.