Portable refrigeration containers can lend themselves to a variety of industries because of their incredible capabilities. From increased payload capacity, higher business efficiency and product quality control. A lot of industries choose this form of refrigeration for its unrivalled flexibility in everyday business operations.
No matter what industry you currently operate in, if you require refrigeration or freezing capabilities but don't want to fully convert your van – portable refrigeration is an ideal solution.
So, whether you're looking to keep your products intact during travel or you need to ensure your products abide by the health and safety standards of the food and beverage industry, you'll be covered with refrigerated containers.
In this post, we're going to explore the different industries that will be able to utilise the benefits of portable refrigeration containers. We'll also give you an insight into some of the possibilities available with a reputable supplier – after all, choosing the right supplier is absolutely essential for the success of your business and its offerings.
We'll cover:
Food and Beverage 
Precision, quality control and health and safety are three essentials in the food and beverage transport industry. Errors can't occur when businesses rely on their products being safe, secure and delicious. It would be detrimental to your business if you've spent time sorting your goods and products out to then find that during transit their quality has been impacted negatively. 
Foodborne illnesses are common amongst foods and beverages that haven't been kept in safe and clean storage during transit. To prevent this from happening, the correct refrigeration methods are vital. You need refrigeration that is reliable, safe, secure and specific to your needs. 
With the help of portable refrigeration containers, your food can be climate-controlled during the length of its travel. If you want to future-proof your business and have the health, safety and wellbeing of your consumers at the forefront of your operations – portable refrigeration containers can provide the correct cooling needed. You need to ensure your products are fit for purpose and you can continue to delight customers.
If you need dual refrigeration or require the flexibility of having the choice between refrigeration and non-refrigeration, portable containers can provide all the flexibility for your vehicle. They're easy to install and remove – offering the best of both worlds. 
Another factor to consider for all industries is ensuring that the inside of the container can be kept clean at all times. Great news! With all portable refrigerated containers, they're easy to clean, wipe down and disinfect when needed.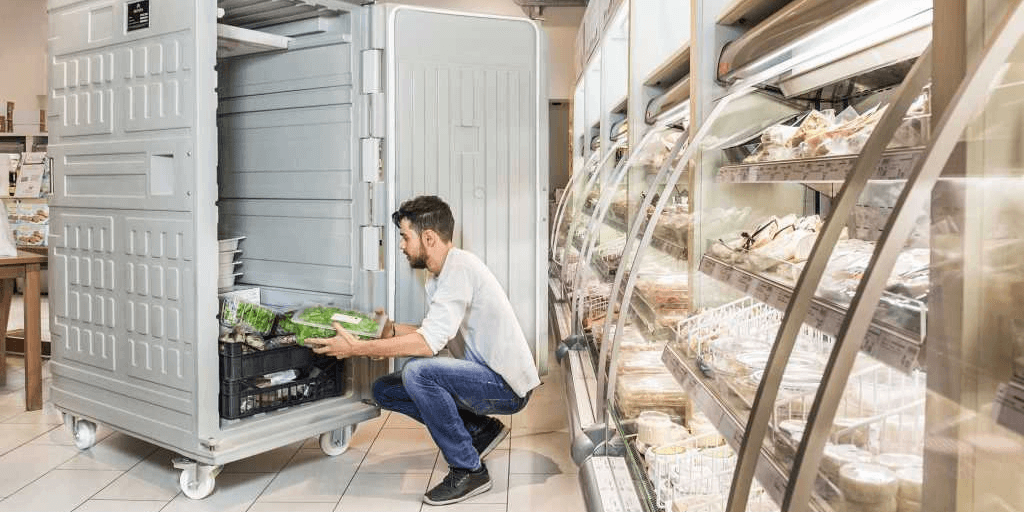 Pharmaceutical
One of the issues that can occur in the pharmaceutical transport industry can be getting medicines and vaccines from one destination to another – as quickly as possible whilst also maintaining the best conditions for optimal storage and chilling.
Although many pharmaceutical industries may already have their own chilling and cooling methods. Portable refrigeration containers offer the flexibility of converting an ordinary van into a refrigerated van if needed. This is great if you have higher demand during a particular time or you need to temporarily increase the size of your fleet. 
Medical supplies such as insulin and vaccines are fragile and require the correct transport and handling at every stage of their journey. If vaccines or medicines degrade during transit, they can put a patient's health at extreme risk.
Not only is this detrimental to your business but it's putting the health and safety of others in danger. Portable refrigeration containers help ensure medicines can remain in a brilliant condition to ensure they reach the right people safely and securely.
Floral
The floral industry is diverse and serves many capabilities. If you operate within the floral industry, the quality of your products is essential to your everyday operations. You need to ensure your products are packaged and carried in the best condition possible to ensure you can continue to delight your customers.
Having an optimal temperature in your van will ensure that your products don't wilt and will remain in their correct condition for delivery. Once flowers are cut and harvested, they're more vulnerable to the elements so temperature cooling is essential.
Maintaining a chilled temperature of between five to seven degrees centigrade is important to ensure your products remain in a good condition. With the right chilling solutions in place, you needn't worry about the quality of your floral products.
Portable refrigeration containers can provide the reliability the floral industry needs and deserves. They can easily be fitted to your existing vehicle, they're easy to load with your required products, they're easy to clean and maintain and they're a great payload maximiser. This is all great news if you want to carry as many products as possible.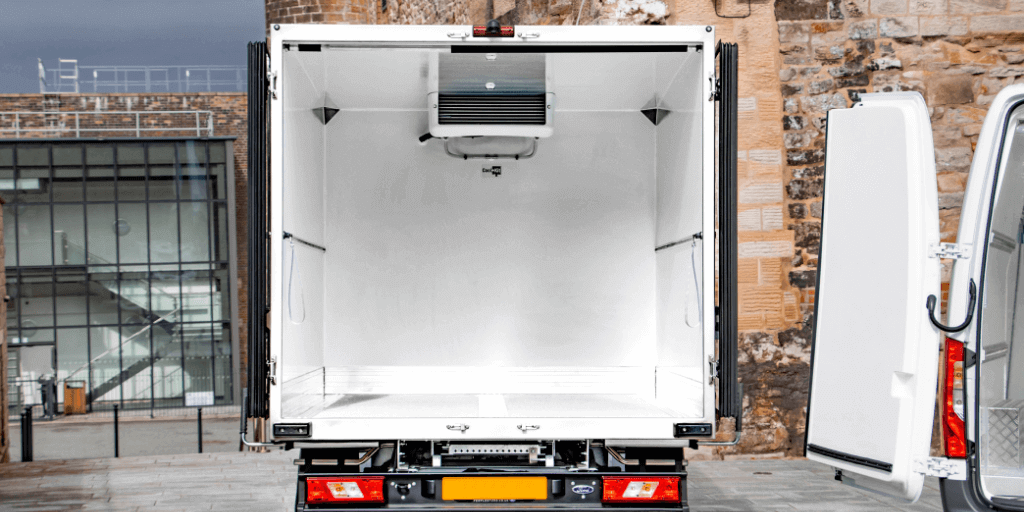 Sampling
Sampling is a process used in the statistical analysis of products, situations and more. Sampling has to be accurate, it has to be precise and there's certainly no room for errors in the sampling industry. Samples must be kept at regular temperatures and must remain in the same condition they were loaded in.
Strict protocols and precautions have to be followed. If you move within this industry, this will likely be one of your concerns when looking at refrigeration methods and options. Portable refrigeration containers also work very well in this industry as they allow for dual temperatures and are guaranteed to keep your products in the best condition possible.
Accurate cooling options, the durability to move the container out of your vehicle if it's not needed and they're easy to clean and maintain. The floral industry will benefit from these refrigeration options – FACT.
Choosing The Right Portable Refrigeration Option
Choosing the right portable refrigeration option can be daunting, especially when your business depends on accurate and pristine refrigeration. Mistakes can't be made and your business needs to run efficiently as possible. When looking at portable refrigeration options it's important to do your research, see which options are available and see which ones will align with your business operations and needs.
Melform is an Italian leading portable refrigeration supplier that offers incredible results, great refrigeration solutions and two types of ranges. Whether you're looking for an insulated container for handling, storage and delivery. Or, refrigerated containers for pharma logistics. Here at CoolKit, we offer both. 
Melform containers are perfect for businesses who operate in the industries already covered or businesses who require the safe transport of chilled or frozen goods. The shape and design of the containers ensure that they're easily slotted into an existing vehicle without the need for a full conversion. So if you don't want to fully commit your vehicle or fleet to refrigeration, the portable containers offer flexibility.
Utilise The Positives of Portable Refrigeration Containers
Does your business operate in one of these industries? Do you like the sound of portable refrigeration? With the help of our expert team at CoolKit, you'll be well on your way to enjoying all the benefits of portable refrigeration.
We've got 15 years trading experience in the refrigeration industry so we know our stuff that's for sure. If you have any questions or you want to take a look at our range, please don't hesitate to get in touch.
In the meantime, if you want to learn more about how to add value to your business in a different capacity, then our downloadable infographic isn't one to miss.
However, we're just adding the finishing touches – so, in the meantime, please contact one of our expert team with any questions or queries you may have.