A portable van refrigerator can offer multiple benefits to many businesses. Whether that's increased payload or increased revenue, either way, they're perfect for an array of needs. However, what is the purpose of van refrigerators? What role do they play in the refrigeration industry and what are the benefits?
When it comes to refrigeration, the benefits can vary between their purposes. But in this post, we'll cover everything you need to know about portable van refrigerators and the important role they play in this industry.
After all, if your business can benefit from something, it's worth knowing about it. Especially van refrigeration. We'll ensure you leave this post knowing everything you need for refrigerated business success.
We'll cover:
What is a Portable Van Refrigerator?
Portable van refrigerators are refrigeration solutions perfect for businesses that require the flexibility of refrigeration options without the need for a full van conversion. Portable van refrigerators can be installed on a vehicle easily and they can also be removed when they're not needed. They offer customisations, a variety of sizes and models and a perfect way to increase your available payload.
If you want to expand your business offerings without having to fully convert your van, they're a great alternative. If you require refrigeration for only a selection of your products and you require non-refrigeration storage too – they offer durability for both. 
No matter what industry you operate in, if you're looking for a refrigerated solution then portable van refrigeration is the ideal selection. They play an important role above and beyond business efficiency. They help you keep your products in alignment with legal requirements and more. 
Transporting Pharmaceutical Products
The transportation of pharmaceuticals has to be accurate and precise. Any mistakes that happen during the transportation of pharmaceuticals can impact the final consumer's safety and well-being. Therefore, adequate chilled storage plays a vital role in drug safety and that's where portable van refrigerators come into it.
Portable van refrigerators offer dual temperatures and they offer vehicle flexibility (they can be plugged into the van when needed and removed from the vehicle when they're not required). This is ideal for the pharmaceutical industry.
It's important to note that each pharmaceutical product will require different storage requirements. So it's essential to have a reliable refrigeration option. When drugs are stored in incorrect temperatures, the formula and stability of the product will be negatively impacted.
This means the products may degrade and form impurities – causing extreme negative consequences. Be one step ahead and future proof your pharmaceutical business with portable refrigeration.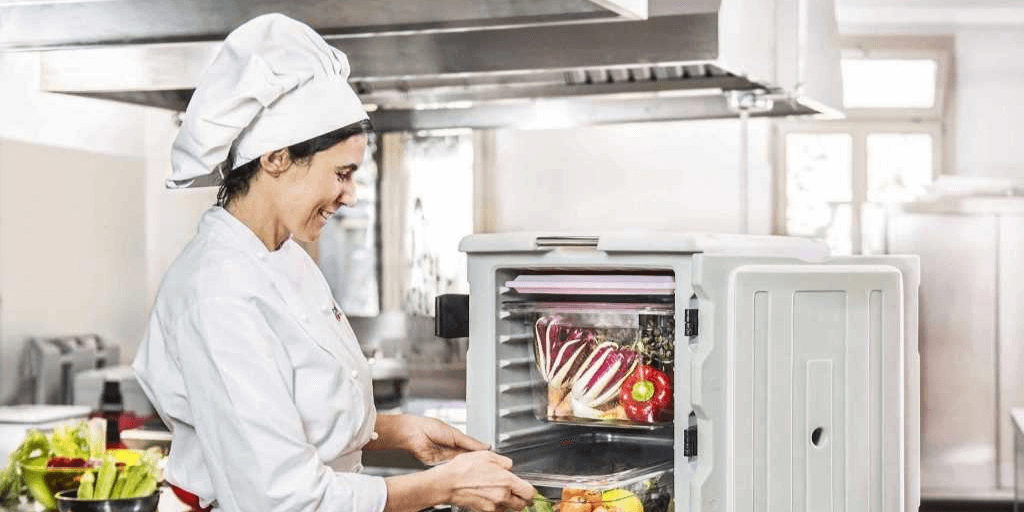 Assisting The Food and Beverage Industry
Another industry that portable van refrigerators lend themselves to is the food and beverage industry. Whether that's food catering or restaurant supply food, either way, portable van refrigerators can provide some brilliant solutions for this industry. 
The transportation of food and drinks need to be accurate to ensure no harmful bacteria is likely to grow or accumulate. This can be detrimental to the end consumer so this can't be overlooked. Optimal freezing and cooling are essential.
If you operate within the food and beverage industry, you'll be pleased to know accurate freezing and chilling is achievable with portable van refrigerators.
It's a legal requirement that perishable foods should be kept refrigerated at 8ºC or below. Frozen food should ideally be kept at a temperature at or below -18ºC. So if you need refrigeration, a freezer setting or you require a dual temperature – you're in luck, portable refrigerators are reliable and have many customisations available.
Improved Business Efficiency
Business efficiency is important for any business. It delights customers, it recruits new customers and it helps build a positive brand reputation. Without it, your business offerings will be lacklustre and you're likely to experience all sorts of problems.
Portable van refrigerators do all the hard work for you once they're plugged in and ready to go. All you need to do is load your products in your vehicle and you're away. They keep your goods and products cooled efficiently for as long as you need. They're great for when you're on the go and most importantly, they're reliable for all your refrigeration needs.
If you're needing space for different items requiring different temperatures, a portable van refrigerator will achieve optimal refrigeration for different requirements. Increase your business efficiency, stop vehicle downtime and ensure your refrigeration offerings are reliable.
Increased Payload
Increasing your vehicle's payload capacity will not only improve your business efficiency but it'll also ensure that your vehicle meets the legal requirements for cargo carrying. If your payload exceeds the recommended and legal limit, not only will it put a strain on your vehicle's engine but you could experience vehicle downtime and some hefty fines.
With portable van refrigerators, you don't need to worry about vehicle payload. Portable van refrigerators are perfect for maximising the space you do have available and ensuring it's used in the most convenient and organised way. They're designed with your specifications in mind and they'll easily slot inside a variety of vehicle shapes, sizes and models.
If you want to make the most of your vehicle payload and still enjoy the benefits that portable refrigeration offers, then they're the perfect solution.
Expanded Business Offerings
If you haven't already considered it, expanding your business offerings will not only increase your revenue but you'll be one step ahead of your competitors. If a new line of business demands the refrigeration option but you don't want to commit to fully converted vehicles, portable van refrigerators can be a great alternative.
Portable van refrigerators could expand your business reach as you'll be able to lend your services to a variety of services. Do your research, see how portable van refrigerators can slot into your daily offerings and don't be afraid to expand your current business opportunities.
Add Value To Your Business With a Portable Van Refrigerator
Adding value to your business at various stages in your business journey can be invaluable and a top investment in the long run. If you're looking for ways to increase your revenue, be one step ahead of your competitors and help boost your business efficiency even further, then it'll be worthwhile considering more than a portable van refrigerator.
In our FREE downloadable infographic, we've covered everything you need to know about how to add value to your business through refrigerated solutions.
However, we're just adding the finishing touches – so, in the meantime, please don't hesitate to get in touch with one of our expert team with any questions or queries you may have.