Regular vehicle maintenance is essential for keeping your van in top condition. Maintenance will prevent unexpected repair bills, protect the long term value of your vehicle and reduce your impact on the environment.
If you're a fleet operator or refrigerated van owner, it's likely that you rely on your vehicle(s) to drive your business forward. Without them, you wouldn't be able to delight customers or generate sales. While not all maintenance can be done yourself, there are many things you can do to prevent problems before they occur whilst also reducing your vehicle's emissions.
But what are the benefits of reducing your carbon emissions whilst also maintaining your vehicle? In this post, we'll explain what van maintenance is and why it's important. We'll also cover the importance of reducing your vehicle emissions and feature our weekly van maintenance checklist. That way, you can learn all the steps you need to take to future proof your business.
We'll cover:
What Is Refrigerated Van Maintenance and Why Is It Important?
As a fleet operator or refrigerated van owner, you must always ensure your vehicle(s) are roadworthy, safe and efficient. Not only does it increase the productivity of your vehicle, but it's a legal obligation too.
Vehicle maintenance covers the essential inspections that can be carried out to identify potential faults before they become problems. Refrigerated van maintenance is a preventative precaution and can help future proof your business and vehicle. If you're carrying out regular van maintenance, you'll be one step ahead of any issues that may arise.
Regularly keeping on top of your van maintenance will increase your safety on the road, reduce fuel costs, vehicle downtime and carbon emissions. It's without a doubt that van maintenance offers nothing but benefits. 
The last thing you want is vehicle downtime and delays, from a fault that wasn't identified sooner. Although it may seem inconvenient to do maintenance checks, it'll save you time, money, and resources in the long run so it shouldn't be overlooked.
Why Should You Reduce Your Vehicle's Emissions?
Have you thought about the impact your refrigerated van has on the environment? Now is the time to start. Reducing your vehicle's emissions has a positive impact on the environment and offers optimal vehicle performance, positive brand image, increased fuel economy and reduced fuel costs.
Although businesses will be encouraged to make the switch to electric vehicles over the next few years, there are steps that you can take right now to reduce the impact you have on the environment. 
Don't worry, if you're short on time, like many business owners, there's nothing additional that you need to do to check your vehicle's emissions. Carrying out regular vehicle maintenance will naturally reduce the impact you have on the environment, whilst also keeping your vehicle and fleet in top condition.
According to COP26's research, road transport accounts for 10 percent of global emissions, this is rising faster than those of any other sector. As the UK prepares the path to Net Zero by 2050, there's never been a better time to reduce your vehicle's emissions. Especially, if it can offer multiple benefits to you as a business owner and to the environment. 
Weekly Van Maintenance Checklist
Are you ready to reduce your emissions and start prioritising the maintenance of your refrigerated van? Here's our vital weekly maintenance checklist.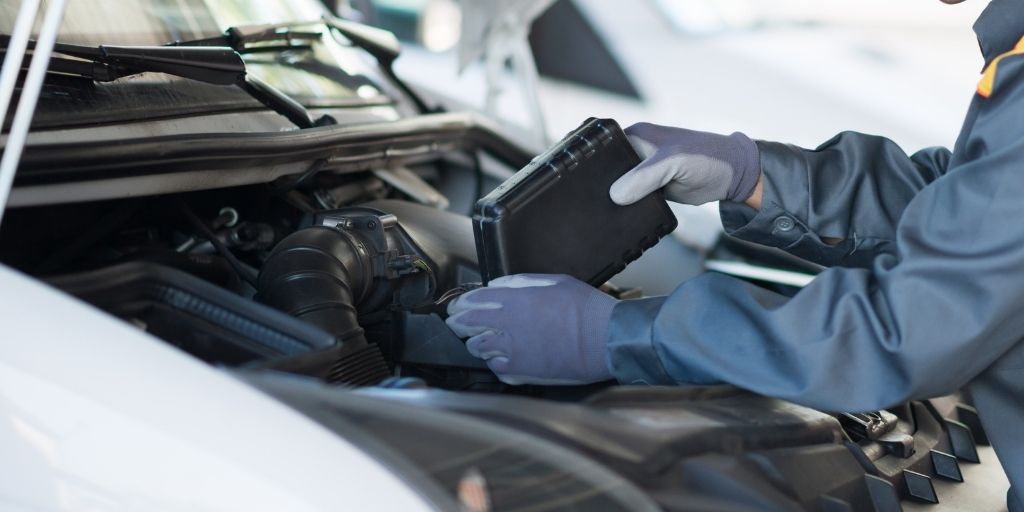 Check Engine Oil
The engine oil is one of the most important components of your vehicle – the fluid lubricates, cleans, cools and prevents wear. To keep your refrigerated van running at an optimal level of efficiency, the engine oil should be checked and changed regularly. 
You can check your vehicle's handbook for the recommended engine oil changes, intervals and service recommendations. In between professional servicing, the engine oil levels should be checked regularly – topping up the level if required using the correct grade of oil.
Clean oil, that's regularly topped up and checked, enables your vehicle's engine to work optimally and smoothly during travel – resulting in less harmful emissions. Changing the vehicle oil regularly will reduce the number of hydrocarbons your vehicle produces during travel and will positively impact the environment.
Inspect Tyre Pressure
When was the last time you checked your tyre pressures? Your tyre pressures should be checked at least once a month in line with your manufacturer's recommendations, as well as using a reliable pressure gauge. 
Low tyre pressure can increase fuel consumption and carbon emissions. Tyres that aren't properly inflated can result in poor handling, and potentially even a loss of vehicle control – putting your driver and goods at risk of harm. 
Correctly inflated tyres can save you up to three percent on fuel whilst also reducing your vehicle's tailpipe carbon emissions. Not forgetting, inflated tyres will also last longer and wear evenly – saving you money in the long run. If you want to save money, keep your tyres in pristine condition and keep your workers safe – then don't skip this off your weekly van maintenance checklist.
Look Over Cooling System 
If you are a worker or fleet operator in the foodservice, pharmaceutical, catering and sampling industries, then delivering chilled or cooled goods to the highest standard is likely one of the main priorities for you as a business.
However, if you don't check your refrigerated vans cooling system or insulated area regularly you'll be putting your goods at risk of damage during transit and in turn, disappointing your customers and affecting your brand image.
Air conditioning and cooling systems encourage your vehicle's engine to work harder during travel, increasing vehicle emissions. When not in use, the cooling system should be switched off. And to prevent any vehicle downtime, before every journey, the entire insulated area of your refrigerated van should be checked for holes or punctures that could affect the temperature control. 
Consciously Choose Fuel
If you top-up your fuel each week, which fuel do you usually opt for? When you top-up next time, look out for fuels that are labelled 'premium', 'super' or 'ultimate'. Although these types of fuels are typically more expensive, in the long run, they can improve fuel efficiency and reduce carbon emissions. 
The higher quality fuels contain cleaning agents that remove dirt from the engine helping the engine to work at an optimal level to reduce emissions and increase the productivity of the vehicle. This small change can offer multiple benefits but can often be overlooked. 
Van maintenance should be completed every week in conjunction with a professional inspection – this will vary depending on the vehicle you own (recommended professional servicing will be in your vehicle handbook).
Start Future-Proofing Your Fleet Today!
After reading this, we hope you now know the importance of refrigerated van maintenance and ways you can reduce your vehicle's emissions. Keeping on top of your vehicle's maintenance will ensure you're prepared for every journey, whilst also reducing your impact on the environment for the future. 
If you want to delight customers every day, reduce hidden repairs, increase fuel efficiency and do your bit for the environment before it's compulsory – start today.
However, if your vehicle is experiencing problems consistently, it might be time to make a change. For expert help and guidance, don't hesitate to get in touch with our specialist team at CoolKit – we'll look forward to hearing from you!