Electric vans are powerful, efficient, environmentally friendly and more comfortable to control. Not to forget, electric vans have also been endorsed by the government, helping to reduce the UK's carbon footprint, especially in major cities across the country. 
Not only do these vans help the environment and provide ultimate driving comfort, but they're also great for a variety of different industries and provide the perfect temperature-controlled solution. Before exploring electric vans more, it's important to understand why choosing an electric van could be the right decision. But don't worry, we've done the hard work and research for you.
In this post, we'll explore the different types of industries that can benefit from an electric van. We'll also explore different types of electric vans and their suitability for different types of industries. 
We'll cover:
Why Choose an Electric Van
Whether you're a fleet manager or you run a small business, choosing the right van is one of the most crucial decisions you'll face. Ensuring that your van meets the demands of your customers but also keeps your team and the products safe is essential. 
Electric vans are going to play an increasingly important role in the UK as the industry evolves over the next few years. The Government has set a target to "ensure almost every car and van is a zero-emission vehicle by 2050". Although this might seem a long time away, it'll soon be here and there's never been a better time for an electric van than now. 
The benefits of an electric van:
Eco-friendly: electric vans produce no CO2 or NOx emissions. Their widespread adoption has the potential to dramatically improve air quality – brilliant news!
Low running costs: they're considerably cheaper to run than diesel alternatives. Not only is the cost per mile lower, but there are also fewer moving parts – reducing maintenance costs.
Incentives – they have many incentives. Because of the low emissions, electric vans are exempt from London's congestion charge – we won't dive into them all here – we'd be here all day.
Silent running – if you're wanting to drive outside of conventional delivery times, you can do so without disruption. Electric vans are quiet and some are virtually silent. This also makes driving more pleasant.
Low running costs, government support, no noise pollution and more enjoyable to drive. These vans have many benefits. Companies are being forced to adopt the addition of electric vans into their fleet to meet the challenge. But it's not a negative thing – it's an advantage.
This demand for electric vehicles has also encouraged manufacturers to improve their production and evolve their models. This means that innovation and economic growth is guaranteed – meaning van variety will certainly be promised.
The 6 Best Electric Vans
Electric driving has been introduced across the van spectrum – there's a revolution taking place. And van makers are joining this trend to set themselves up for success. From the likes of Mercedes to Vauxhall – they're both futureproofing their services to help others. 
On the whole, an electric van is designed to produce low-emission journeys from dispatch to delivery. Some are designed for high-volume loads and some smaller electric vans are designed for short urban routes. But rest assured, as battery technology has progressed and developed, so has the variety of vans available. 
For van users that are unsure of where to start or don't know which options are available on the market, we've covered six of the best electric vans right now. 
Nissan ENV200
The Nissan e-NV200 is the ideal electric commercial vehicle for any business, powered by 100 per cent electricity, it's a perfect example of intelligent power. Going electric with the Nissan ENV200 will benefit you in many ways. From low operating costs, high efficiency and surprising performance to its compact interior, versatile qualities and not to forget, the Nissan Intelligent Mobility technology. 
The Nissan also comes with settings that allow you to set the cabin temperature before you set off, which helps maximise your driving range. So if you're needing to keep food or pharmaceuticals chilled or at a specific temperature, you'll be organised ahead of time with this feature.
Key Features
Electric range: 124 miles (approx).
Cargo volume: 4.2 cubic metres – perfect for smaller loads!
Battery: 40kWh battery – charged in seven hours 30 minutes.
Added features: you can pre-set the temperature before setting off.
Renault Kangoo ZE
Renault has been creating electric vans longer than anyone else and with this expertise, the Kangoo ZE is a proven and efficient van. The Renault Kangoo ZE is one of the most practical plug-in choices. It's the first full-production electric van, originally going on sale back in 2011. But in 2017, it had a major update which increased its driving range massively. 
If you need a small electric van, this is the best model to spend your money on. If you're not needing much space and your delivery range is smaller – this is the perfect choice. The Kangoo ZE creates zero emissions while driving – which explains what the 'ZE' stands for. Helping your business present a green, eco-conscious and friendly image. 
Key Features
Electric range: 143 miles.
Cargo volume: Up to 4.6 cubic metres.
Battery:  33kWh battery – charged in six hours.
Variety: there's many options to choose from. So depending on your requirements, there are many body styles: the standard Kangoo, the long-wheelbase Kangoo Maxi, plus Extended Cab and five-seat options.
Mercedes E-Sprinter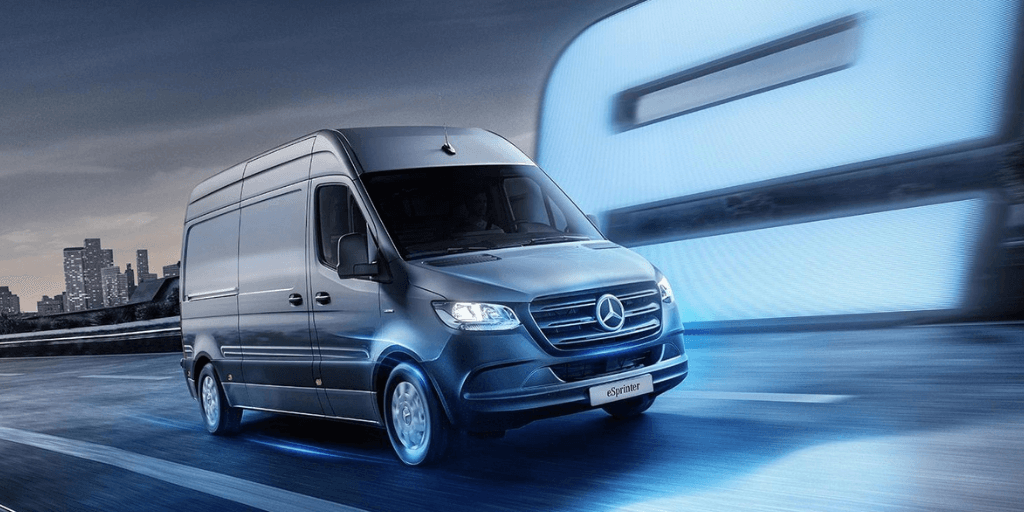 The award-winning Mercedes E-Sprinter is a van built of necessity. It's a time and money saver and if you're making longer trips or motorway journeys, the E-Sprinter has a combined range of 82-95 miles. The E-Sprinter is reliable and will get you wherever you need to go on ONE full single charge.
Of course, the E-Sprinter produces zero emissions and is a step in the right direction for helping the environment. From the ergonomic design of the cabin environment to its wealth of cutting-edge security features. It'll be guaranteed to keep your business moving safely, efficiently and cost-effectively – no matter what industry you're from – from florals to food and catering. 
Key Features
Electric range: 71 miles.
Cargo volume: 10.5 cubic metres.
Battery: 41kWh battery – charged in eight hours.
Extra features: remote e-charging, GPS Tracking, pre-cool the vehicle while charging and NINE safety features to ensure every journey is safe and secure. Including an automatic Mercedes-Benz Emergency Call System.
Ford E-Transit – Launching 2022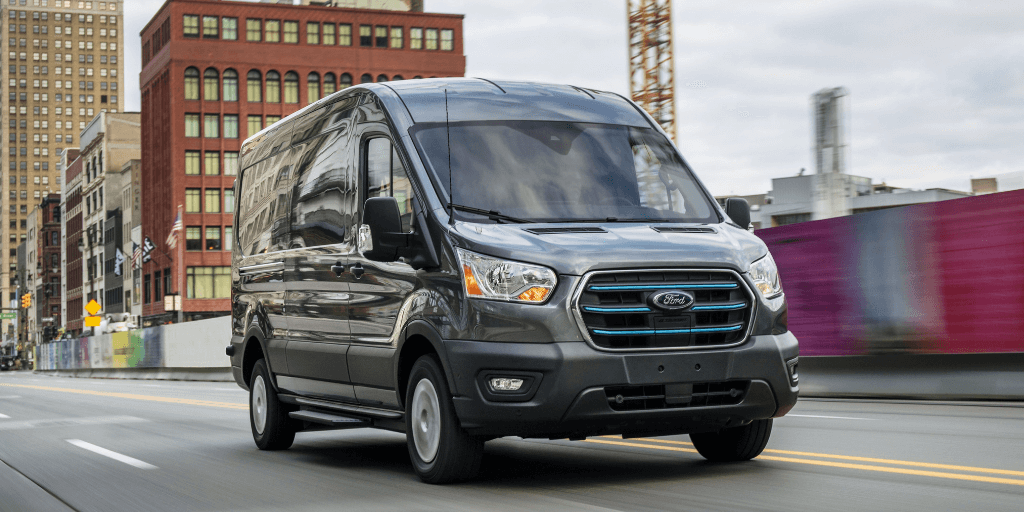 The Ford E-Transit is the first full-production Ford electric van. It's not on sale until 2022, but although it's taken its time to be built, the wait will definitely be worth it. With the electric motor's peak power output at a staggering 198kW – it's far beyond the maximum power output of any other large van model.
If that wasn't enough, Ford have also added in some extra features in the form of high-tech electric vehicle telematics and Pro Power Onboard systems. Both allow the ability to use some of the E-Transit battery energy to generate electricity to power tools and equipment – allowing you to work on-the-go.
Key Features
Electric range: 217 miles.
Cargo volume: 15.1 cubic metres.
Battery: 67 kWh battery-powered.
Variety: available in two height and three length variations – so whatever your requirements, you'll find the perfect choice!
Vauxhall Vivaro-E
The award-winning Compact Van of the Year is a versatile performer that gets the job done with a choice of batteries. Zero emissions, noise-free and regenerative braking – driving an electric van has never been easier. Going electric also means low maintenance and no road tax – it's a winning combination.
Vauxhall understands that one size doesn't always fit all. So they're selling more than one version of the Vauxhall Vivaro-E – there's a choice of two battery packs. This allows business owners to choose the cost, payload and driving range that best suits them. This electric van could suit the daily use of a whole range of businesses – it's a game changer.
Key Features
Electric range: 143 miles.
Cargo volume: 6.6 cubic metres.
Battery: 50kWh battery – 80 per cent charged in 30 minutes – rapid charging!
Extra features: named 'Compact Van of the Year' for 2021, has rapid charging, regenerative parking, zero emissions – this applies to being noise-free too and a choice of batteries for longer journeys.
Fiat E-Ducato
This kickstarts Fiat own brand of 100 per cent electric vehicles. Not only is this exciting for Fiat but this means that there's another brand on the market and there's even more variety now. It's congestion charge free, making it the perfect choice for businesses in both urban and suburban environments.
There's two battery options, giving a driving range between 99 to 192 miles. There's a seven-inch touchscreen, rear parking camera (brilliant bonus), LED daytime running lights and many more features. With a fast charge turnaround time and zero emissions guaranteed, you'll be doing your bit for the environment but also have more time-efficient journeys and a variety to choose from. 
Electric range: 230 miles.
Cargo Volume: 10-17 cubic metres.
Battery: 47kWh or 79kWh battery – two hours 30 minutes to charge.
Extra features: available in three different heights, four body lengths, seven-inch touchscreen, standard on-board charger.
Electrify Your Business
Now we've covered six of the best electric vans on the market. It's fair to say that electric vans can help the environment and help your business in the process – it's a fact. 
But it can be challenging choosing the right van for your business and it needs. There's a lot to take into consideration when browsing vans or exploring your options. But with the right resources and expert help, you'll be one step ahead.
Please don't hesitate to reach out to one of our expert team today!